---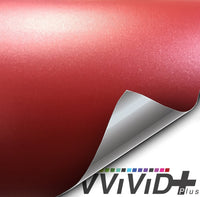 VVIVID+ is VViViD's new premium line of products. All of the VVIVID+
films come from their new factory line. Enhanced material, finish and
adhesive.
This Product includes VViViD's Ghost particles. Shine a light on the material and watch the product come to life!
Product Description
Texture: Matte Finish

Thickness: 3.9

mils

Application: Dry

Features: VViViD Natural Air release, VViViD Reflective Ghost Particles.

Adhesive:

Acrylic

-based, reposition able, slideable

Warranty*: 3 years

Expected durability: 5-7 years.


Conformability: Very high
Skill level needed: Low.