---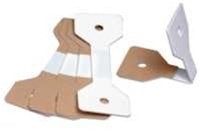 New Banner Ups PowerTabs. Made of high strength composite film, these tabs are just as strong as regular Banners Ups and stronger than grommets. This new and unique design allows sign shops to make strong, yet inexpensive banner blanks instantly in their own shop. Banner Ups PowerTabs are less conspicuous than grommets and blend into the banner substrate for a more pleasing visual effect. They are available in regular size for outdoor banners, mini size for indoor or light duty outdoor use, in white, and now in crystal clear for full-color digital banners. For digital banners and graphics of all kinds.
Use Banner Ups PowerTabs to turn your digital image into a super strong outdoor banner - instantly!
Crystal Clear PowerTabs let your color image shine through. Super strong for outdoor use.
No sewing, grommeting or special tools required!
New! Strongest tab ever. 20% stronger than any tab we've ever made.
Use Banner Ups PowerTabs with virtually any banner fabric, Coroplast, Foamcore, or paper.