---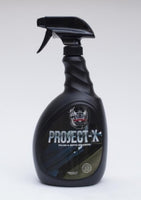 Project X is a depth and shine enhancer for dark painted vehicles. CroftgateUSA has made cleaning dark colored cars simple and effective. Project X can be applied 2 ways, but either way we guarantee to deepen your finish whether you are a detail pro or a garage novice.
PRODUCT FEATURES
Minimal work involved, spray and wipe in.
Produces a deep, brilliant appearance on dark painted vehicles.
Recommendation For Use:
Needed: 2 microfiber towels each folded two times. For use on a clean surface.
By Hand: Simply spray 2-3 mists onto a clean surface, wipe Project X and buff off... We recommend a NEW and CLEAN micro-fiber cloth.
With Polisher: Using a BLUE or RED foam polishing pad, spray 1-2 sprays on the surface and 1 onto the pad. Using polisher between 1000-1200 rpms, simply work product into surface until entire areas is covered. Remove with a NEW and CLEAN micro-fiber cloth.
Project X can be used in DIRECT sunlight and with NO issues on ALL trim, windows or ANY surface of the vehicle.
No Petroleum Solvents - No Listed Hazardous Materials - No VOCs