---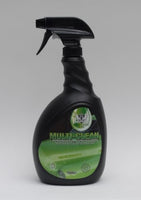 MULTI-CLEAN Multi Purpose Cleaner.
MULTI-CLEAN Cleans and Removes Stains and Contaminates Normal Cleaners Can't Touch!!
The entire team at CroftgateUSA has a true passion for all forms of transportation and the environmental impact of car washing using traditional water-wasting car washing methods, and products which contain harmful silicones and petroleum solvents & bi-products.
As a consequence, CroftgateUSA's R&D team, along with their chemists, have taken the time to develop THE BEST waterless car wash and paint protection systems available. This allows you to keep your ride, be it a car, truck, bike, jet-ski, boat, or plane looking better than new while using no water to wash it.
Use CroftgateUSA's MULTI-CLEAN to Clean Any Part of Your Vehicle!!
For the cleaning of carpets, mats, upholstery, and trim items to hard to remove bugs and tar stains, MULTI-CLEAN gently, yet effectively removes stubborn dirt and grime from all these diverse surfaces.

MULTI-CLEAN has the ability to remove heavier than normal dirt and films that conventional cleaners can't touch. Pollutants like road debris, bugs, tar, bird dropings, and much more. Use it on the outside of your vehicles surface, and on the inside too!

MULTI-CLEAN uses Biodegradable Surfactants which are strong enough to break up and lift away heavy dirt film, grime, and debris, but are also gentle enough to be used on fabrics and carpeting to remove many stains, grease, and dirt.

Microfiber towels are recommended for applying MULTI-CLEAN to your vehicle's surface. This way, the chances of causing micro-scratches on the top coat, or interior surfaces are avoided. MULTI-CLEAN drastically reduces the quantity of water needed to clean stubborn, hard to remove soils and stains, and eliminates the need for buckets and hoses.
CroftgateUSA's MULTI-CLEAN Cleans All Areas of Your Vehicle With Less Effort, In Less Time, and More Eco-Responsibly!!!
MULTI-CLEAN has been approved by the E.P.A. and has received their Design For The Environment* designation!!

MULTI-CLEAN contains no listed hazardous ingredients, no V.O.C's, and no petroleum solvents!!
For Best Results Using CroftgateUSA's MULTI-CLEAN, Follow These Simple Guidelines:
Use MULTI-CLEAN out of direct sunlight, and on cool body work.

Use Microfiber towels with MULTI-CLEAN. Microfiber towels gently lift up and trap dirt and grime loosened by MULTI-CLEAN. This way, the chances of causing micro-scratches on the top coat, or interior surfaces are avoided.
Fold each microfiber towel in half twice; This effectively gives you 8 clean pads to carry out your cleaning operation.

Spray the first microfiber towel with MULTI-CLEAN to pre-wet, then spray MULTI-CLEAN on the area of the vehicle to be cleaned.

Wipe over the sprayed area with the pre-wetted towel to lift away dirt and grime.

For stubborn stains, allow MULTI-CLEAN to sit for 2-3 minutes before wiping them away.
For Dirty or Stained Carpets, Mats, and Upholstery:
After first testing in an inconspicuous area, spray MULTI-CLEAN directly onto the soiled area and rub gently to remove stains and dirt.