---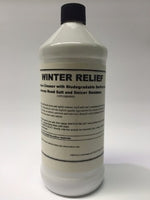 Use Croftgate Winter Relief to remove Salt and Deicer Residue!
Get rid of those ugly stains!
Directions:
Spray Winter Relief spray onto a Micro Fiber towel to pre wet, then spray Winter Relief ontoi surface and rub gently with the pre-wet towel. Follow by using a second towel and squirt a stream of Winter Relief directly onto the area to be cleaned then use a side to side motion to remove salt residue. Then wipe with a clean dry folded towel.