---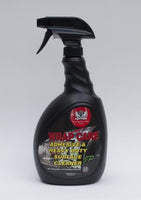 Water based eco responsible formula, wets out and removes adhesive and more, leaving no residue.
Our formula lasts longer, wetting out the surface better which means more of it gets applied onto adhesive and other hard to remove surface contaminates (oil, tar , bugs) for better removal.
Other fast evaporating cleaners do not last long in a towel and may not clean as deep, needing multiple applications. They may be made from hazardous solvents as well.
A more efficient and safer way to remove heavy surface contaminates including certain adhesives.
No heavy fumes to smell.
Does not have a tendency to lighten plastics like the fast evaporating petroleum solvent based products.
No Petroleum Solvents.
OTHER USES:
Use as a 2nd Step after using our Surface Prep, in surface preparation to ensure the surface is perfect for vinyl adhesion.
HOW TO USE:
STEP 1: Spray WC Heavy Duty Cleaner onto an area on the towel and onto to surface contaminates, allowing it to penetrate. Then rub contaminates away.
STEP 2: Adhesives: Spray WC Heavy Duty Cleaner onto an area on towel and a heavy amount onto to surface adhesives, allowing it to penetrate and then rub adhesive away.
STEP 3: When adhesive is removed, wipe up with a clean dry towel and follow with our surface prep.
For Stubborn Surface Contaminates: Repeat treatment again. Allow a heavy spray of WC Heavy Duty Cleaner to sit longer on the area to be treated before wiping clean.