---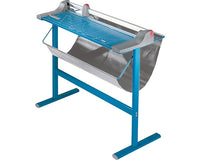 Rolling Trimmers are the new generation of paper cutters. Designed
for safety and accuracy, the round cutting blade is encased in a
protective housing that virtually eliminates the chance of personal
injury. The rotary action of the blade allows the trimmer to cut in
either direction and sharpen it's blade along the way. It's this self
sharpening action that produces a clean burr-free cut and guarantees
many years of smooth precise cutting.
Dahle now offers a line of large format rolling trimmers designed
for heavy duty applications where precision is essential. This Premium
Series offers a cutting capacity of up to 22 sheets (model 446 S) of
paper at a time as well as mat board. This performance is made possible
by a thick walled aluminum guide rod which provides maximum strength
with minimal side movement of the cutting head. These commercial grade
trimmers are perfect for cutting oversize paper, large format images,
and press sheets. A metal stand with paper catch offers a stable and
secure mounting solution for the trimmer. This stand also maximizes
floor space while providing an optimal and comfortable height for
trimming.