---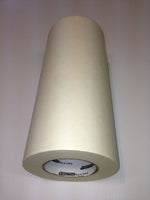 Vinyl signs require transfer tape that will unwind easily, tear
cleanly and transfer smoothly with no adhesive legging or residue. Many
projects call for a tape that will adhere to the liner and lay flat
during storage and shipping.
PerfecTear Plus application tapes will adhere to the exposed liner
while keeping the liner and vinyl flat for extended periods of time.
This allows you to ship, store or apply the vinyl graphics at your
convenience with no concerns of de-lamination and the aggravation and
mess that comes with it.
Store or ship your RTA vinyl signs with confidence. Trust PerfecTear
Plus with all of your graphic needs where liner adhesion and lay flat
properties are required.
Adheres to matte vinyl and cleanly releases graphics on the wall
Features formulated liner adhesive that allows the premask to lay flat during storage or transit
No tunneling or edge curling
Makes installation of wall graphics easier than ever
Medium Tack