---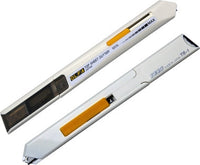 An innovative tool that offers a unique way to cut only a single, top sheet of material.
Easy sheet thickness adjustment - simply set from "MIN" for cutting
a thin sheet, to "MAX" for cutting a thicker sheet of material.
No user pressure adjustment necessary during the cut.

Cuts up to 90lbs liner & sheets up to 0.004" (0.1mm) thick.

Can be used to cut liner, films, paper, plastic sheeting and tape.