---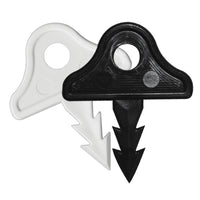 Use our Twist N Hook for hanging foamboard substrates anywhere.
Simply twist the spike-end anywhere into the edge of the corrugated
plastic substrate material so that it screws into the foam edge side and
then hang it up.
Works great with wire, string, chain or use our T-Bar Ceiling Hooks and 6" Hanging Rods or

12" Hanging Rodsfor that professional look. 2 Twist N' Hook foamboard
substrate hangers can hold a 4' X 8' foamboard panel but we recommend at
least 4 per board of that size.
Be sure to check out our Pick N' Hook Corrugated Plastic Substrate
hanger for hanging all your foamboard signs and graphics substrates.
There is nothing easier!
This item sold at most sign and graphics supply, banner supply and WIDE-FORMAT digital print suppliers.

100 per bag